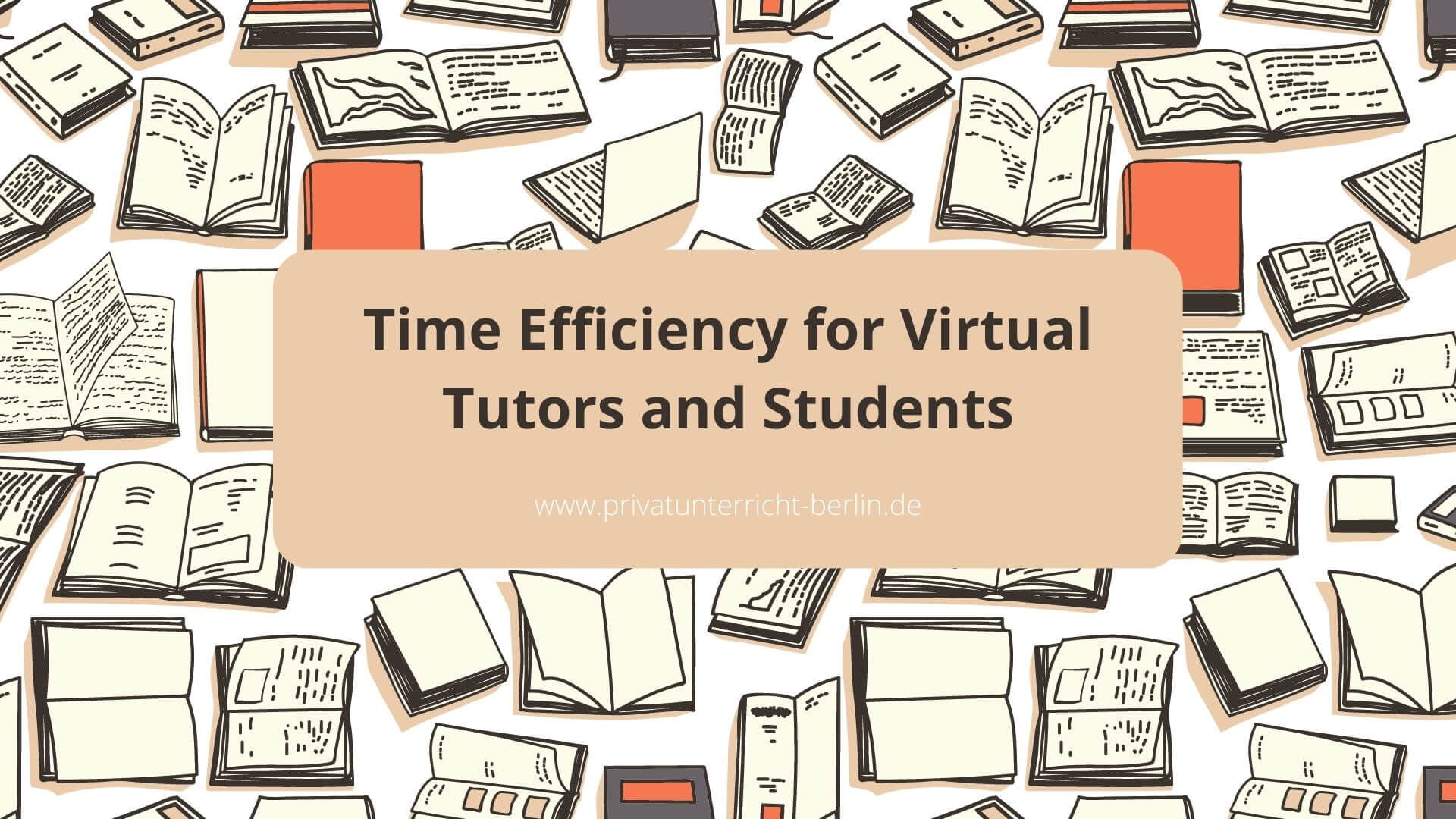 Time Efficiency For Virtual Tutors And Students
As a time efficiency expert for virtual tutors and students, I understand the importance of maximizing productivity in today's fast-paced world. With many distractions at our fingertips, staying focused on our studies or teaching sessions can be challenging.
However, incorporating effective time management strategies into your routine can make all the difference. In this article, we will explore various tips and techniques that can help you improve your time efficiency as a virtual tutor or student.
From setting realistic goals to utilizing helpful tools and resources, these practices will enable you to work smarter rather than harder while achieving outstanding results. So let's dive in and discover how to optimize your time and succeed in the digital age!
Table of Contents
Setting Realistic Goals
As a virtual tutor or student, time management is crucial for success. One of the most critical aspects of managing your time effectively is setting realistic goals that align with your priorities and needs. Goal-setting strategies can help you stay focused, motivated, and on track to achieve your desired outcome.
First, start by identifying what you want to accomplish in a given time frame. This could be anything from completing an assignment to studying for a test or improving a skill set.
Once you have identified your goal(s), break them down into smaller, more manageable tasks that can be accomplished within shorter periods.
Next, create an action plan that includes specific steps for achieving each task, deadlines, and accountability check-ins to ensure that you stay on track.
By following these simple yet effective tips for goal-setting, you can optimize your productivity while minimizing stress and overwhelm.
When it comes to prioritizing tasks and assignments, various techniques can help you make the most out of your available time. Let's explore some key strategies for maximizing efficiency and staying organized amidst a busy schedule.
Prioritizing Tasks And Assignments
Organizing your workload is critical to being a successful virtual tutor or student. Scheduling time for each task and setting realistic deadlines will help keep you on track and efficient.
Establishing deadlines for yourself and your students can help ensure that tasks are completed on time and promptly.
Organizing Workload
Picture this: you have many assignments and exams to prepare for, but you need to figure out where to start. This can be overwhelming and stressful, especially for virtual tutors and students who need to manage their time efficiently.
The key is to create schedules that prioritize your workload and track how much time you spend on each task. Using time-tracking techniques such as Pomodoro or setting realistic deadlines will avoid procrastination and ensure that all tasks are completed within the given timeframe.
Additionally, break down larger projects into smaller, more manageable chunks. This will help prevent burnout and make it easier to focus on one specific task at a time.
Remember, organizing your workload is crucial to achieving productivity and success!
Scheduling Time
Now that you have learned the importance of prioritizing your workload, it's time to delve into the subtopic of scheduling time.
Collaborative scheduling is an excellent tool for virtual tutors and students who must balance their work and personal lives. By working with peers or mentors, you can create schedules that accommodate everyone's availability while ensuring that all tasks are completed within the given timeframe.
Furthermore, flexibility in time management helps when unexpected events arise or if you need more time to complete a task. It's essential to be realistic when setting deadlines and allow room for adjustments.
Effective time management takes practice and patience, but it is achievable with dedication and effort.
Establishing Deadlines
Now that you have learned about the importance of scheduling time and collaborating with peers or mentors to prioritize tasks, it's time to dive into another crucial aspect of effective time management: establishing deadlines.
As a virtual tutor or student, staying on top of multiple assignments and projects can be challenging without clear timelines. By setting realistic deadlines for each task, you can ensure that everything is completed within the given timeframe while allowing room for unexpected events or adjustments if needed.
Collaborative scheduling and flexibility options also come into play here as they allow you to work with your team members to create achievable deadlines that accommodate everyone's schedules. Let's explore this subtopic further and discover how establishing deadlines can help maximize your productivity levels.
Utilizing Time Management Tools
One of the most critical skills for virtual tutors and students to develop is efficient time management.
With so many distractions at our fingertips, it can be difficult to stay focused on tasks and complete them promptly.
Luckily, there are several tools and techniques available that can help us make the most of our time.
One such technique is the Pomodoro technique, which involves breaking work into 25-minute intervals followed by short breaks.
This method helps prevent burnout while maximizing productivity since it encourages you to focus on one task at a time.
Additionally, task batching is another helpful tool that can save time by grouping similar tasks and completing them all at once instead of switching back and forth between different types of work.
By utilizing these strategies, virtual tutors and students can effectively manage their time and accomplish more in less time.
Minimizing Distractions
Now that we have explored the benefits of time management tools let's discuss how to minimize distractions. Eliminating interruptions is essential to creating a productive environment for virtual tutors and students.
Firstly, it is crucial to identify potential sources of distraction in your workspace. This could be anything from social media notifications to loud noises outside. Once you have recognized these sources, please take steps to eliminate or reduce them as much as possible. For example, turn off your phone during study sessions or use noise-canceling headphones if external sounds are an issue.
Secondly, create a designated workspace that is conducive to learning and focus. Make sure the lighting is adequate and the temperature is comfortable. Remove any clutter or unnecessary items that may distract you from your work. By intentionally designing a space with productivity in mind, you can ensure that your time spent studying or tutoring will be efficient and effective.
Tips for eliminating interruptions: * Turn off phone notifications * Use noise-canceling headphones * Set boundaries with family members or roommates
Strategies for creating a productive environment: * Ensure proper lighting and temperature * Reduce clutter and distractions * Personalize your workspace to make it comfortable
Remember: A successful tutor or student needs uninterrupted focus!
Incorporating breaks and rest periods into your schedule can also significantly affect efficiency when used correctly…
Incorporating Breaks And Rest Periods
Incorporating Breaks and Rest Periods is a crucial aspect of time efficiency for virtual tutors and students. Breaks are often viewed as an obstacle to productivity but are essential in maintaining focus and concentration.
Taking short breaks every 60-90 minutes can help alleviate mental fatigue, increase creativity, and improve overall performance. The Benefits of leaves cannot be overstated; they provide the opportunity to step away from screens, stretch your legs or even take a power nap.
A five-minute break can make all the difference in productivity for both tutor and student. Strategies for rest periods include scheduling them into your daily routine, setting reminders on your phone or computer, or using apps that promote relaxation techniques such as meditation or deep breathing exercises.
By incorporating these strategies into their daily routine, virtual tutors and students will undoubtedly see an improvement in their ability to stay focused throughout their sessions without feeling burnt out by the end.
Frequently Asked Questions
What Are The Best Time Management Tools For Virtual Tutoring?
Regarding virtual tutoring, time management is crucial for tutors and students.
Online scheduling tools are a great way to ensure that sessions are organized and on time. These tools allow tutors to schedule appointments with their students without confusion or overlap easily.
Time tracking tools also help manage the duration of each session, ensuring that both parties stay focused throughout the allotted time frame.
By utilizing these two tools, virtual tutors can maximize their productivity while minimizing wasted time.
These tools provide structure and accountability for students, ensuring they make the most of each session.
Overall, online scheduling and time-tracking tools are essential for anyone looking to optimize their virtual tutoring experience by effectively managing their time.
How Can Virtual Tutors Help Their Students Stay Focused And Minimize Distractions?
Virtual tutors are essential in helping their students stay focused and minimize distractions during online learning sessions.
Effective communication is critical to achieving this goal, as it allows the tutor to understand the student's needs and tailor their teaching approach accordingly.
Mindfulness techniques can also be incorporated into virtual tutoring sessions to help the tutor and student remain present and fully engaged.
By encouraging mindfulness practices such as deep breathing exercises or brief meditation breaks, virtual tutors can help their students improve concentration levels and reduce stress, ultimately leading to a more productive and efficient learning experience.
As a time efficiency expert for virtual tutors and students, I strongly recommend incorporating these strategies into your virtual tutoring sessions for optimal results.
What Are Some Tips For Incorporating Effective Breaks During Virtual Tutoring Sessions?
Adequate breaks are vital in maintaining focus and productivity during virtual tutoring sessions.
Break length and frequency depend on individual preferences, but it's important to remember that taking too many or too few can adversely affect performance.
As a time efficiency expert for virtual tutors and students, I recommend incorporating short breaks every 25–30 minutes of focused work, with longer intervals of 10–15 minutes after two or three cycles.
These pauses allow the brain to recharge, refocus, and retain information better while reducing burnout and boredom.
Remember: taking adequate breaks is like fueling your engine – it keeps you going stronger for extended periods!
How Can Virtual Tutors Prioritize Assignments And Tasks For Their Students?
Virtual tutors can enhance their students' time efficiency by prioritizing assignments and tasks based on effective communication and personalized schedules.
By establishing clear objectives, virtual tutors can help students identify the most critical activities that must be completed first.
This requires a deep understanding of each student's specific needs and learning style, which can be achieved through consistent communication and feedback.
Personalized schedules should also be created for each student, considering their preferences and constraints, such as work or family commitments.
With these strategies, virtual tutors can optimize their students' productivity while minimizing wasted time and effort.
What Are Some Strategies For Virtual Tutors To Ensure That They Are Using Their Time Efficiently During Tutoring Sessions?
Virtual tutors must know how to use their time efficiently regarding tutoring sessions. Practical goal setting and proactive communication are key strategies in achieving this.
To optimize time management, virtual tutors can start by identifying the main goals of each session and prioritizing tasks accordingly. A useful idiom that encapsulates this concept is 'time is money.' By valuing their time as a valuable resource, virtual tutors will be motivated to make every minute count during sessions.
Additionally, proactive communication with students can help minimize misunderstandings and ensure everyone is on the same page about expectations and objectives for each session.
Overall, virtual tutors who prioritize practical goal setting and proactive communication will maximize their time efficiency during tutoring sessions.
Conclusion
As a time efficiency expert for virtual tutors and students, I encourage you to prioritize your time to achieve maximum productivity. By utilizing practical tools and strategies, both parties can ensure that their tutoring sessions are efficient and productive.
Minimizing distractions during virtual tutoring sessions is crucial to creating a distraction-free environment. Incorporating regular breaks is also essential for maintaining focus and avoiding burnout. Lastly, always prioritize assignments and tasks based on urgency and importance.
Now I ask you: Are you ready to take control of your time as a virtual tutor or student?
With the right mindset and tools, achieving time efficiency is possible. Let's make the most out of every session and reach our goals effectively!