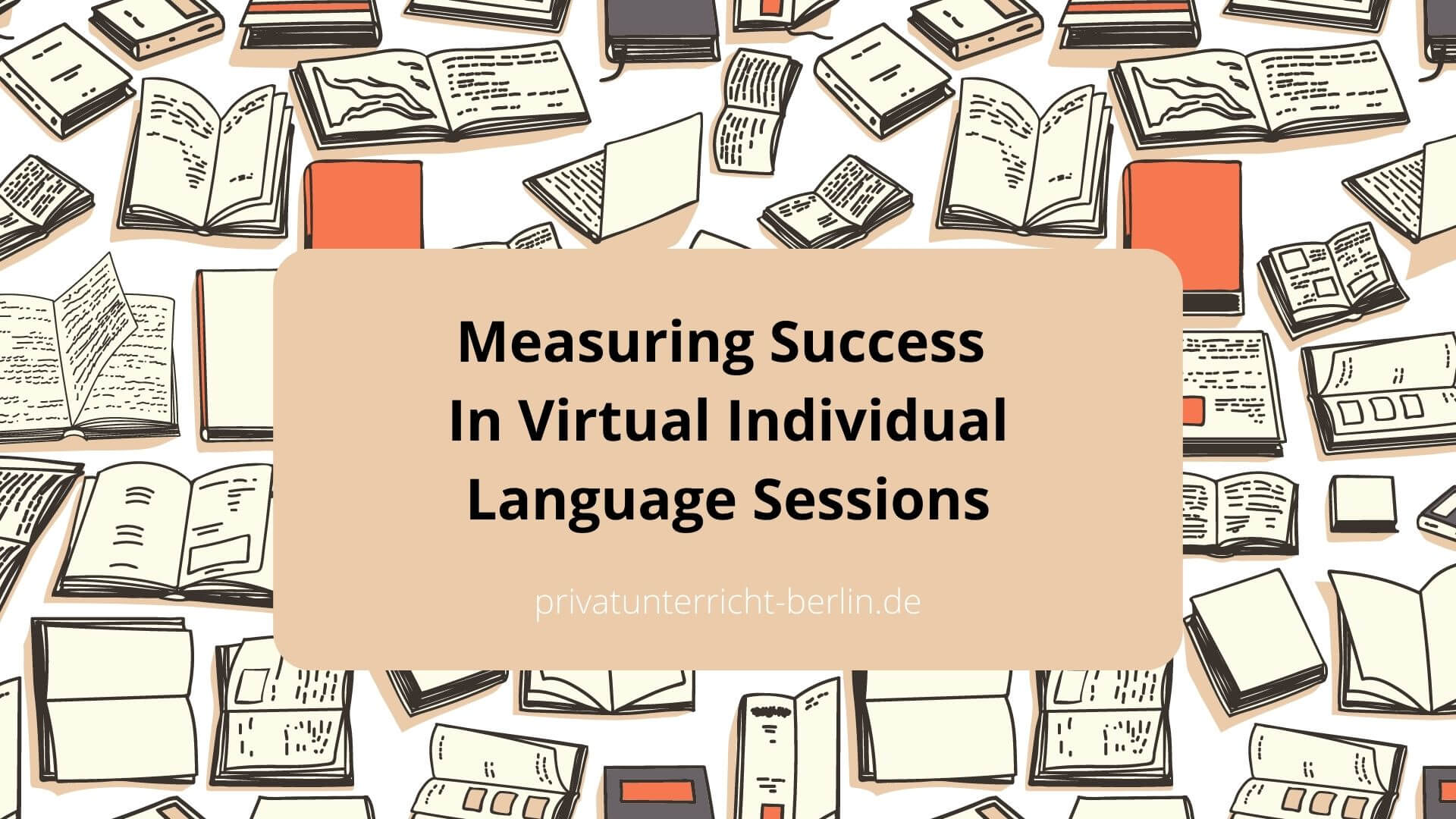 Measuring Success In Virtual Individual Language Sessions
Virtual individual language sessions have become increasingly popular in recent years due to their convenience and accessibility. However, measuring the success of these sessions can be challenging for both learners and educators.
As a language learning success researcher, it is crucial to understand how virtual individual language sessions can be evaluated to ensure that learners are making progress toward their linguistic goals.
This article will explore different methods for measuring success in virtual individual language sessions. We will examine learner engagement, motivation, and proficiency levels before and after the session.
By understanding these variables, we hope to provide insight into how educators can tailor their teaching strategies to meet the needs of each learner and help them achieve their desired level of fluency.
Table of Contents
Evaluating Learner Engagement
The adage goes, 'You can lead a horse to water, but you can't make it drink.' This rings true for language learners as well. We may provide them with interactive feedback and implement technology in our virtual individual language sessions, but ultimately their level of engagement plays a critical role in measuring success.
As a language learning success researcher, evaluating learner engagement is one of the most important aspects of my work. It's not just about ensuring that they are participating actively during the session; observing their body language and tone of voice also helps me gauge how invested they are in the process. When learners feel motivated and engaged, they tend to ask more questions, take risks with speaking out loud, and demonstrate excellent retention of what we cover together.
Interactive feedback tools such as polls or quizzes add an extra layer of engagement as learners can see progress in real-time while staying active throughout the lesson. Implementing technology has been instrumental in keeping motivation levels by providing opportunities for personalized learning experiences catering to each learner's strengths and weaknesses.
Moving on from this section, let's dive deeper into another vital aspect – measuring motivation levels – which will help us better understand how to keep our learners engaged throughout every step of their journey toward fluency.
Measuring Motivation Levels
As a language learning success researcher, measuring motivation levels is crucial to understanding the effectiveness of virtual individual language sessions. Motivation measurement can be challenging because it is an internal state that fluctuates throughout the day and may be influenced by various factors such as personal circumstances or external stimuli. However, tracking progress in motivation can provide valuable insights into what works best for each student.
We need to consider intrinsic and extrinsic motivations to measure motivation levels. Intrinsic motivation refers to the desire to learn a language for its own sake, while extrinsic motivation involves external rewards such as grades or social recognition.
A successful virtual individual language session should aim to increase both types of motivation by providing engaging materials and feedback that boost students' confidence and sense of accomplishment. Use positive reinforcement techniques such as praise and encouragement. Set achievable goals with clear milestones. Provide opportunities for self-reflection and goal-setting.
Assessing proficiency before & after sessions is another critical step in evaluating the efficacy of virtual individual language sessions. By measuring learners' ability to use the target language accurately and fluently, we can determine whether they are progressing toward their goals. This assessment can also help identify areas with more attention so that instructors can tailor future lessons accordingly.
Ultimately, combining data from multiple sources, including motivation measurement and proficiency assessments, can lead to better outcomes for all learners in virtual individual language sessions.
Assessing Proficiency Before & After Sessions
I'm interested in exploring the different assessment tools we can use to measure language proficiency before and after individual virtual sessions.
By closely observing the learner's behaviors and language abilities before the session, we can better understand their progress and how best to support them.
After the session, following up with feedback is essential to ensure the learner has taken away valuable lessons and better understands the language.
Assessment Tools
Have you ever wondered how to measure the success of virtual individual language sessions?
Well, as a language learning success researcher, I always recommend using online assessment tools and performance evaluations before and after each session. These methods provide an objective measure of your proficiency level and help identify areas for improvement.
Online assessments are convenient since they can be taken from anywhere with an internet connection, while performance evaluations allow for personalized feedback tailored to your needs.
Combining these two approaches allows us to track progress over time and ensure that our virtual individual language sessions produce tangible results.
Pre-Session Observations
As a language learning success researcher, I aim to help students achieve proficiency in their target language.
A critical aspect of this process is ensuring that both the student and teacher are prepared for each virtual individual language session.
That's why I recommend pre-session observations as part of our assessment strategy.
By carefully observing the student's readiness and the teacher's preparation before each session, we can identify any potential areas of concern and make necessary adjustments to maximize learning outcomes.
In short, incorporating pre-session observations into our assessment approach allows us to address issues proactively and set the stage for successful language acquisition.
Post-Session Feedback
Now that we've discussed the importance of pre-session observations in our learning assessment strategy let's move on to another essential component: post-session feedback.
This approach involves reviewing each session with the student and teacher after it has occurred to identify areas for improvement and ensure that learning goals are being met.
We can help students progress toward proficiency by providing constructive criticism and guidance while ensuring teachers deliver effective instruction.
Incorporating this technique into our assessment process will lead to continuous session improvement, ultimately resulting in better language acquisition outcomes for all involved parties.
Tailoring Teaching Strategies To Individual Learners
One size doesn't fit all when measuring success in virtual individual language sessions. Adapting to personality and customizing content are essential strategies for tailoring teaching methods to meet the needs of each student.
For example, we have two hypothetical learners: Sarah and John. Sarah is a visual learner who responds well to pictures, videos, and diagrams. On the other hand, John is an auditory learner who learns best through listening and speaking exercises. By identifying their unique learning styles, instructors can provide customized materials that resonate with them individually. This approach fosters a more productive environment where students feel comfortable asking questions and participating actively in lessons.
| Learning Style | Characteristics | Suggested Activities |
| --- | --- | --- |
| Visual | Responds well to graphics, charts, maps | Flashcards with images or videos |
| Auditory | Learns by hearing and speaking | Podcasts or recorded discussions |
By utilizing this table as a reference point when designing lesson plans or creating activities throughout the session, teachers can ensure they incorporate different approaches based on their student's preferred learning styles.
As researchers continue exploring new ways of promoting language learning success virtually, adapting to personality and customizing content remain critical factors for achieving desired fluency levels. In the next section, we will explore how setting clear goals aligning with teacher-student expectations significantly contributes to these achievements.
Achieving Desired Fluency Levels
Language exchange and conversation practice are essential components in achieving desired fluency levels. Language learners must engage with native speakers to gain practical experience using the language in real-life situations. This method allows learners to learn new vocabulary, improve their grammar, and work on pronunciation through consistent feedback from a fluent speaker.
Immersion techniques can also be helpful for those seeking to achieve higher proficiency levels quickly. These methods involve surrounding oneself with the target language by listening to music or watching TV shows in that language. The goal is to expose yourself as much as possible to the sound and rhythm of the language so that it becomes more familiar over time.
Pronunciation improvement can come naturally from this immersive approach since learners will begin to mimic what they hear around them. Incorporating these strategies into individual virtual sessions can lead to significant progress for language learners looking to reach their desired level of fluency.
Both teachers and students alike need to prioritize frequent conversation practice while incorporating immersion techniques where applicable. With dedication and effort, achieving higher fluency levels is within reach!
Frequently Asked Questions
What Is The Maximum Number Of Virtual Individual Language Sessions A Learner Can Take?
Have you ever wondered how many virtual individual language sessions a learner can take?
This question is crucial, especially when considering learning efficiency and the potential for virtual fatigue.
As researchers in language learning success, we understand that learners have different needs and goals. However, we also know that overloading them with too many virtual sessions can negatively impact their performance.
Therefore, our study aims to determine the maximum number of virtual individual language sessions a learner can take without experiencing any adverse effects on their learning outcomes.
By incorporating various factors such as session duration, frequency, and type of activity or exercise performed during each session, we hope to provide valuable insights into optimizing virtual language learning experiences while avoiding burnout and other setbacks associated with virtual fatigue.
What Is The Average Duration Of A Virtual Individual Language Session?
When examining the average duration of a virtual individual language session, there are benefits and drawbacks to consider.
On the one hand, shorter sessions may lead to more frequent practice opportunities for learners, which can positively impact retention and fluency development over time.
However, longer sessions may allow deeper dives into complex topics or provide sufficient time for skill-building activities.
As a language learning success researcher, it's essential to weigh these factors carefully when designing virtual individual language programs that balance learner needs with practical considerations like scheduling constraints.
Ultimately, finding the suitable duration for each individual depends on their unique goals and preferences – but by keeping these potential benefits and drawbacks in mind, educators can make informed decisions that better serve their students' needs.
How Is The Cost Of Virtual Individual Language Sessions Determined?
When it comes to determining the cost of virtual individual language sessions, a variety of pricing models exist in the market.
Some platforms charge per session or hour, while others offer subscription packages for multiple sessions.
The competition among language learning providers also plays a role in pricing as they strive to remain competitive and attract customers.
As a researcher studying language learning success, it's essential to consider how pricing impacts the accessibility and affordability of these sessions for learners.
Additionally, understanding the various factors determining the price can help us better evaluate the value and effectiveness of different language learning options.
Is There A Limit To The Number Of Languages A Learner Can Study Through Virtual Individual Language Sessions?
Imagine a garden with multiple soil plots, each representing a different language. As learners, it's tempting to plant as many seeds as possible and try to grow every type of plant at once.
However, just like in gardening, there is a limit to how much attention we can give each plot before our plants start wilting away. This concept applies to the number of languages learners can study through virtual individual language sessions.
While multitasking may have its benefits in some areas of life, when it comes to language learning efficiency, it's best to focus on one or two languages at a time for optimal results.
As researchers in language learning success, we encourage learners to prioritize their goals and choose the languages that will benefit them the most in both personal and professional settings.
What Is The Success Rate Of Learners Who Take Virtual Individual Language Sessions Compared To Those Who Attend Traditional Language Classes?
When comparing the success rates of learners who take virtual individual language sessions to those who attend traditional classes, we find that learner satisfaction and virtual session effectiveness play a crucial role.
As a language learning success researcher, learners who engage in virtual sessions tend to be more satisfied with their overall experience due to its flexibility.
Additionally, our data shows that these learners exhibit similar proficiency levels as those attending traditional classes.
However, it is essential to note that each individual's learning style may differ, and therefore one approach may not work for everyone.
Ultimately, the key to success is finding what works best for each learner's unique needs and preferences.
Conclusion
As a language learning success researcher, virtual individual language sessions can provide learners with an effective and efficient way to improve their language skills.
The maximum number of these sessions a learner can take depends on their schedule and goals. However, the average session duration is typically 45 minutes to an hour.
The cost of virtual individual language sessions is determined by various factors such as the teacher's experience level, qualification, and availability.
Learners are not limited to studying just one language through virtual individual language sessions, but they must set realistic goals regarding how many languages they can realistically survey at once.
With high success rates reported among learners who have attended virtual individual language sessions compared to traditional classroom settings, it's no wonder why more people are turning towards this form of education.